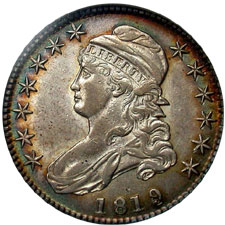 The mintages for Capped Bust Half Dollars were relatively high, with figures exceeding the one million mark for most issues. Only a select few dates are considered to be rare, such as the 1815/2 with a mintage of 47,150 and the 1836 Reeded Edge with an estimated mintage of only 1,200. The highest mintage occurred with the 1836 Lettered Edge issue with a mintage of 6,545,000.
Because of the higher mintages, most Capped Bust Half Dollars are relatively affordable, and collecting of this series has become popular. Individual dates are usually available in circulated grades, and for some dates uncirculated examples are not too difficult to acquire. Gems, however, remain scarce, and usually represent only a tiny percentage of the total population of uncirculated coins.
Some collectors will take focus on the die varieties of the series, identified by Overton numbers. A full set of coins by die variety is nearly impossible to complete, although a few collectors have come close.
Capped Bust Half Dollar Mintage
Lettered Edge (1807-1836)
| Issue | Mintage |
| --- | --- |
| 1807 | 750,500 |
| 1808 | 1,368,600 |
| 1809 | 1,405,810 |
| 1810 | 1,276,276 |
| 1811 | 1,203,644 |
| 1812 | 1,628,059 |
| 1813 | 1,241,903 |
| 1814 | 1,039,075 |
| 1815 | 47,150 |
| 1817 | 1,215,567 |
| 1818 | 1,960,322 |
| 1819 | 2,208,000 |
| 1820 | 751,122 |
| 1821 | 1,305,797 |
| 1822 | 1,559,573 |
| 1823 | 1,694,200 |
| 1824 | 3,504,954 |
| 1825 | 2,943,166 |
| 1826 | 4,004,180 |
| 1827 | 5,493,400 |
| 1828 | 3,075,200 |
| 1829 | 3,712,156 |
| 1830 | 4,764,800 |
| 1831 | 5,873,660 |
| 1832 | 4,797,000 |
| 1833 | 5,206,000 |
| 1834 | 6,412,004 |
| 1835 | 5,352,006 |
| 1836 | 6,545,000 |
Reeded Edge, Reverse 50 CENTS (1836-1837)
| Issue | Mintage |
| --- | --- |
| 1836 | 1,200 |
| 1837 | 3,629,820 |
Reeded Edge, Reverse HALF DOL. (1838-1839)
| Issue | Mintage |
| --- | --- |
| 1838 | 3,546,000 |
| 1839 | 1,392,976 |
| 1839-O | 178,976 |